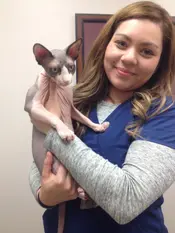 At TLC Animal Hospital, we strive to provide excellent service to pet parents and high quality care to our patients. Our highly trained staff is Fear Free certified and our hospital is designed to provide the best experience for your pet, with separate dog and cat waiting areas, calming music, anti-anxiety pheromone diffusers in exam rooms and kennel areas, nonslip surfaces on scales and exam tables, and lots of treats available for dogs and cats.
After checking in with our front office staff, you and your pet will be escorted by a technician to an exam room. Weight, temperature, heart rate and respiratory rate will be obtained by one of our skilled technicians. They will also take a brief history of your pet, including how they are doing at home. A nose to tail exam will be performed by one of our veterinarians, who will also discuss any diagnostic, therapeutic, or preventative health recommendations with you. Our team will work with you to provide the very best care possible for your pet.
To prepare for your visit, please bring any previous vaccination or medical records for your pet. If you do not have these records, bring the name and contact information (if possible) for the veterinarian your pet has seen previously. Make note of the brand, variety and amount of food your pet is fed, as well as any flea/tick preventives, heartworm medication, or over the counter medications your pet is given and provide this to the veterinary staff. Make a list of any questions or concerns you may have regarding your pet that you would like to ask during your visit. Make note of and discuss any health concerns, behavioral changes, changes in feeding habits, weight, water intake, or elimination you may have observed in your pet.